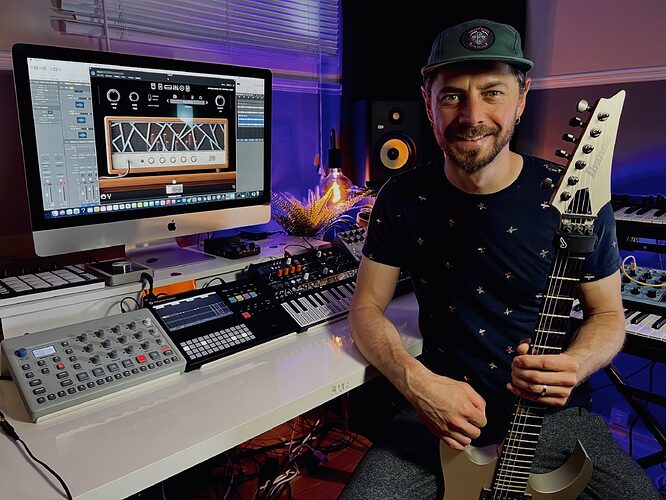 "Magical Edge is a name chosen by the random name generator of the Polyend Tracker, is a mix between two of my favorite music styles, dark melodic electronic sound, and rock guitar."
"The Polyend Tracker is the spine of the scene, driving this musical piece thanks to its song mode. Making a percussive groove with the Polyend is quite inspiring and easy. The main bass line is a time stretch groove sample an octave played to keep the tempo. All embellished with a percussive sample set, two lines of melodic synth made with a Lyra Soma sample played in a loop or reverse mode for movement in the sound.
Some external Arp is provided by the Arturia Microfreak running through the Microcosm Hologram Electronic. This gives me more melodic controls in jam mode.
And finally, I couldn't do this scene without some incisive and melodic guitar for more harmonic depth.
Making Dawless and structured jam with Polyend Tracker is so enjoyable and fun and makes your musical journey so easy. I composed all of this structure on a sunny day in my backyard."
Download
Get the Tracker project of Vöstok One – Magical Edge here.
Vöstok One
Kevin Pierru is a Franco-Canadian musician and music producer based in Québec City. A Musician for more than 25 years, he was a founding member of the progressive metal band Caer Ibormeith in the early 2000s where he starred as a guitar player and singer. After several albums were released with his band, he moves across the Atlantic and begins to envision new musical projects.
The Vöstok-One project appears in 2018. Oriented more towards electronic music, a new adventure begins in which producing music solo opens new horizons. Still inspired by rock music, and with an important guitar sound as his trademark, the Vöstok-One project allows him to mix electronic and organic sounds into post-dystopian dark electronica.
---