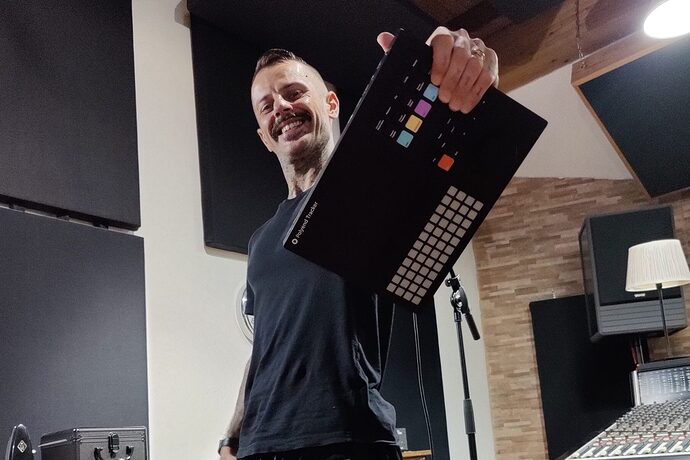 The Polyend Tracker was released more than two years back. We could see a large community of Tracker's fans, which makes us very happy and proud that the scene is still attractive and inspiring for musicians. Many of you are still trying to figure out whether it is suitable for your music style. Quick answer: yes, it is. It doesn't matter if you're a techno producer, jungle creator, ambient enthusiast, or guitarist.
Today we're visiting Noir to find out what's new. What are his Tracker's inspirations?
Noir : In this period, I am dedicating myself mainly to two things: a techno live set (the tech sketches that I am publishing on my YouTube channel) built solely on the Tracker. I'm working on my new album, which could be released by the end of the year, or early 2023. Also composed solely in the Tracker and performed with Tracker & which is my standard setup these days, some examples on my YouTube Channel also).
Polyend : What is the most crucial device used throughout your career? Presently?
Noir: I have two crucial tools, which are Polyend Tracker and Elektron Octatrack. Usually in my standard setup, the compositional is created in the Tracker, to then be performed with the performative effects of the Tracker itself and the Octatrack, which is used as FX box, manual samples launching, and live resampling. They are two machines that work great together!
Polyend: Can you reveal one sound design or music production secret to us?
Noir : One of my favorite things to do with the Tracker, in terms of sound design, is to use a high pass filter, with a good resonance notch, to "pump" kicks and bass. It's like taking advantage of a single band eq. Another creative "trick" with the Tracker is to write the parts of the track, without going into too much detail of the transitions from one section of the track to another. You can do the transitions live, using the Perform section of the Tracker, creating the necessary transitions, always different, directly live.
I am a musician with a "traditional" background (guitar, bass and vocals), so I NEED to be able to play these instruments. With the Tracker this is possible, and for me it is CRUCIAL.
Polyend: Why do you choose Polyend devices?
Noir : The choice of the Tracker came by chance. I was citing new solutions to have a portable and complete setup. After a few days of use, I practically fell in love with it. The ease with which you can get ideas out of your head is absolutely mind blowing. In no time you have the song in hands! Now I couldn't do without it anymore. The Tracker has become an integral part of MY sound.
Noir prepared and published a new instruments pack for Tracker/Play.
Noir : Most of the sounds on this track, come from my new instruments pack, specific for genres such as Techno (all declensions), IDM, house.
This New pack for Tracker/Play contains: basses, techno rumble, drum kit (single shots and chain + bonus chain kit coming from my first pack), techno chords, up to 50 instruments in .pti format for Polyend Tracker, 1 kit for Polyend Play, and wav files.
New instrument pack for Tracker/Play download
Watch the demo, see how these sounds can inspire you!
Just recently Noir prepared a new Polyend Tacker – "The Freak" pack: more than 500 files, PTI instruments, WAV files (each patch samples 3 times over 3 octaves), project files for the Tracker, and more! Basses, leads, pads, you are all covered!
Polyend Tacker – "The Freak" pack download
Visit Noir's profiles for more