While possessing a phenomenally clear UI already, the Tracker could benefit from having a master "status bar" that would persist across all screens (pattern, instrument, master, etc…) located above the screen title. This status bar could present information such as a spectrogram, a series of 10 small volume meters (L and R master + 8 channel meters), a table showing the currently playing note values for each channel, and the current track BPM.
What is the problem?
Currently the UI is focused on displaying information one "page" at a time, and information from other pages is locked behind those screens. This is clearly by design, allowing you to focus on one "task" at a time. You need a button press in order to see the current volume meters as you are entering notes on the pattern screen, for example. However, when creating music on the Tracker, it would be handy to see certain information about the song at all times. The status bar would allow for that.
What do you want to achieve?
By shifting the full UI down and creating a master "status bar" above the screen title, this would provide space for the types of information mentioned above. I've mocked up what this could look like below.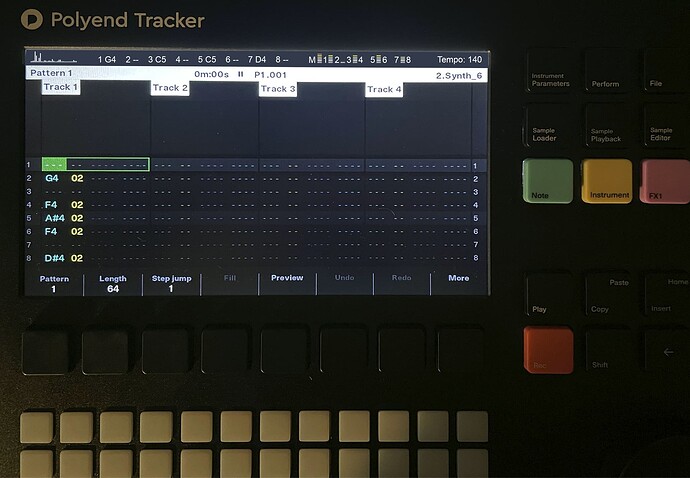 Are there any workarounds?
Currently all of the information mentioned above is found on their respective pages. There's no workaround necessarily for what is described in this wish.
Any links to related discussions?
None
Any references to other products?
The Dirtwave m8 (and the LSDJ that it is based off of) has a feature like this: the information column on the right side of the UI.